Songs for Peace
A social harmony initiative, music workshops and annual concert.
Songs for Peace is a community response to decades of community conflict and reputational damage sustained by Roebourne. Each year, Songs for Peace begins as a series of music and songwriting workshops in the community and prison, and ends in a large outdoor annual concert featuring nationally celebrated artists from a range of cultural backgrounds, collaborating with local musicians.
The Songs for Peace annual concert is staged around the International Day of Peace. It weaves music, local languages, image, short film, spoken word, tea making, Tjaabi, dance and fire into a peaceful evening under the stars, hosted by local young people and Elders, for community and guests.
Songs for Peace is staged alongside the John Pat Peace Place – a peace garden built in the grounds of the Ngurin Cultural Centre to honour the life of John Pat. John was a young Yindjibarndi man from Roebourne, whose death in custody in 1983 was a key catalyst for the Royal Commission into Deaths in Custody. Big hART worked closely with his family to realise this permanent place of reflection and peace for Roebourne community.
Supported by Elders and developed over many years of music, performance and digital workshops, Songs for Peace is a community initiative to promote harmony, safety, conflict resolution and a strong future for Roebourne.
Join Roebourne community and Big hART at the annual Songs for Peace Concert:
International Day of Peace
Saturday September 23 2023
Ngurin Cultural Centre
Roebourne, W.A.
Big hART gratefully acknowledges the support of the Blacket Family
Songs for Peace is touring Australia in 2023 – See the details HERE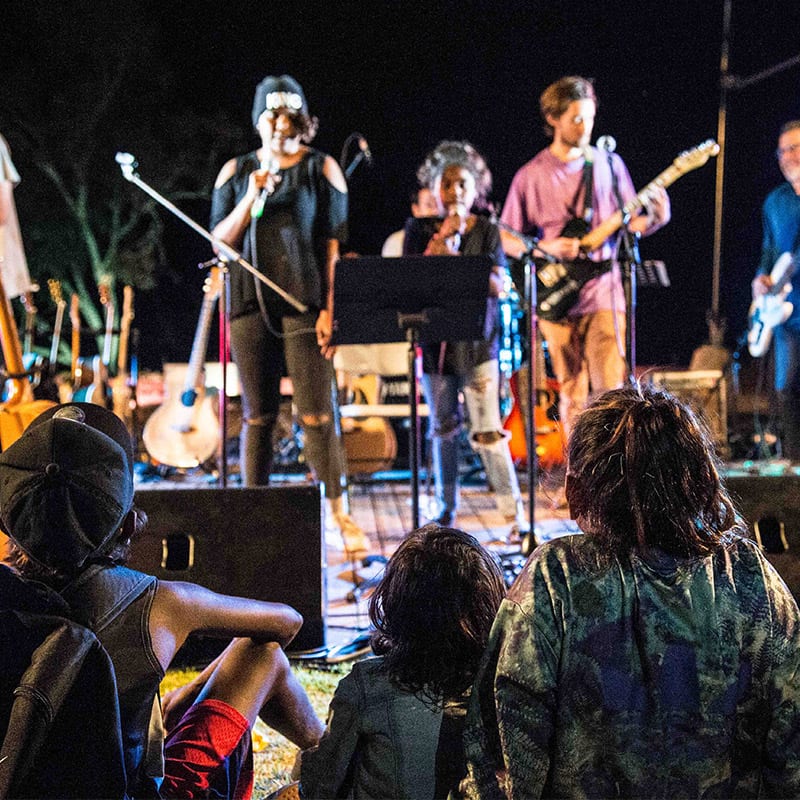 "In Roebourne there are passionate community members who are working hard to lift the negative media attention and to tell their own story in their own way….."
Daniel Browning,
ABC Radio National 'Awaye'